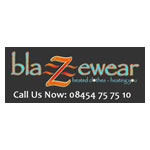 Blazewear
Blazewear has been created to offer you and all our customers the very latest in functional clothing technology and to provide you with warmth, comfort, and a whole range of health benefits provided by heat treatment and Far Infrared Rays. Our exciting range of technologically advanced garments, have been designed for all forms of winter activity to help you enjoy work and leisure during the winter months.
Our products incorporate the very latest in carbon based heating technology and change the focus of winter clothing from heat retention to heat emission to offer you all the practical benefits of adjustable heat control. Our clothes are being recognised around the world as being far superior to similar products and our aim is to introduce as many people as possible to wonders of heated clothing across all age groups and activities.
We aim to make the blazewear brand synonymous with heated clothing so that our brand is instantly recognised as a sign of quality, style and innovation which you will just love to be seen wearing.
Featured Products:
Heated Insoles
Heated boot and shoe insoles to fit shoe sizes 2 -11. Easy to cut to fit size and shape of the foot. Supplied with battery boxes and garters to attach to the bottom of the leg.
G6 sports gilet
The G6 is our latest design sports gilet created to be even lighter and thinner for the active sports person.
Breathable fabric idealy suited to be worn under ski jackets, riding jackets, motorcycle outer clothing and diving dry suits etc. An all round brilliant performing garment Featuring our brilliant EXR-10 heating system with easily accessible controller pocket for ease of use.