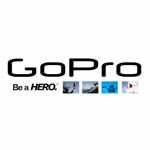 GoPro
Go Pro – the world's most versatile camera
Featured products:
HD HERO2 Camera
GoPro cameras are used by more professional athletes, sports filmmakers and core enthusiasts than any other camera in the world. The HD HERO2: Outdoor Edition is the most advanced GoPro camera yet. Wearable and gear mountable, waterproof to 197′ (60m), capable of capturing professional full 170º wide angle 1080p video and 11 megapixel photos at a rate of 10 photos per second, the HD HERO2 is the world's most versatile camera. Whether your goal is to capture a great day out with friends or you're gunning for the cover of a magazine, the HD HERO2: Outdoor Edition can help you nail it and look like a HERO. Included are mounting accessor
ies you're most likely to use during outdoor sports like biking, skiing, skating, kayaking and so on. Other accessories are available via links on the right hand side of this page. The HD HERO2: Outdoor Edition is compatible with all GoPro expansion accessories and BacPacs™, including the Wi-Fi BacPac and Wi-Fi Remote (coming soon).
3D Hero System – The World's Smallest 1080p 3D Camera
The 3D HERO System allows you to combine two HD HERO cameras, or two HD HERO2* cameras into a single housing to record 3D video and photos while simultaneously recording in 2D. A synchronization cable plugs into the rear HERO Port on both cameras to join them together, enabling both cameras to record video and photos in perfect synchronization. This is a requirement for professional quality 3D and is available only from GoPro.