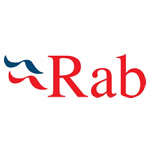 Rab
About Rab
When Rab Carrington started a small company in 1981 Sheffield he was relying on his extensive experience gained on bold, lightweight first ascents to design and manufacture down clothing and sleeping bags of the highest quality. This equipment had to meet the needs of a new breed of lightweight alpinist using techniques pioneered by Rab himself. This equipment had to be designed 'for the most extreme conditions in the world'.
To this day that ethos lives on. The range of product offered may have expanded dramatically but the core values of quality and performance live on. The Rab® range now encompasses all layers from the skin out and makes best use of our close relationship with all our fabric and component suppliers to produce lighter, more breathable, durable and comfortable clothing allowing mountaineers to push their limits in the most hostile of environments.
Feature Products
The world's warmest sleeping bag
EXPEDITION 1200
The Expedition series of sleeping bags have been created by Rab for the harshest conditions. Made with Pertex Microlight and Pertex Endurance fabrics, these sleeping bags will offer protection and warmth at some of the lowest temperatures.
The Expedition bags are slightly oversized to accomodate expedition clothing when getting into the bags. The head and foot area of the bags are lined with water resistant Pertex Endurance to prevent water ingress into the bag from footwear and clothing.
The Expedition series of bags are the warmest Rab sleeping bags and are designed for use in the Arctic and at altitude.
Comfort -29°C
Limit of Comfort -40°C
Extreme -67°C
Weight: 1920g / 67.7oz (+160g / 5.6oz stuffsac)
Expedition Suit
The Expedition Suit has been developed over many years in conjunction with active Himalayan climbers and has been designed for high altitude climbing and prolonged travel in extremely cold climates The Expedition Suit has been used extensively on 8000m peaks and Polar expeditions for many years, Rab sponsored athlete Gary Rolfe credits his down suit with saving his life when his dogs and sled fell through Arctic sea ice.
The Expedition Suit is a very specialist piece of kit and as such is not really suitable for any other use.
Please consult your retailer and if possible try one on before purchaisng – a list of Expedition Stockists can be found here.
Sizes: S – XL
Weight: 1600g / 56oz
Perfect for: Altitude & Polar